Building off of the success and Worldwide response to Outlook Festival at Fort Punta Christo, 2012 also ushered in the debut of Dimensions Festival on the same hallowed grounds. Taking place just a week after Outlook, Dimensions brought together a lineup dedicated towards exploring the deeper side of techno, house, and bass-driven music. If you're already traveling halfway around the World for Outlook, the decision to stay in Croatia an extra week for Dimensions is a bit of a no-brainer. Outlook refugees aside, the eclectic Dimensions lineup brought out it's own diverse massive of travelers from throughout the globe.

Maintaining much of the same ethos as Outlook in terms of sound and overall production value, one of the festival's main selling points was it's limited capacity. With attendance capped at 5000, musical programming for Dimensions would be contained within the mystical Fort complex itself.


Alexander Nut
The festivities kicked off on Thursday night with the Eglo Showcase on the Dimensions Stage. Alexander Nut set the tone early on before lending way to a massive two-hour set from Funkineven. RBMA archived the latter below for your enjoyment: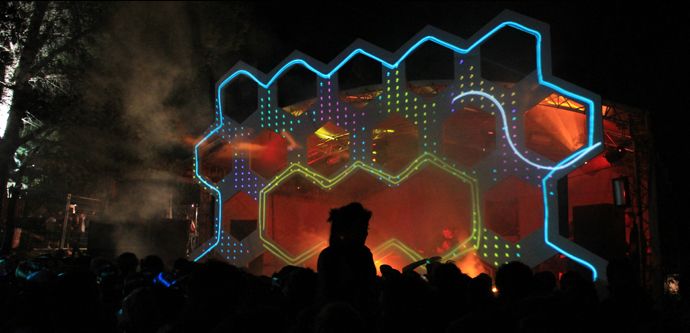 Floating Points
Floating Points delivered one of the most refreshing sets heard over the course weekend. After a week of beats running the full spectrum of electronic music, his funk and disco selections hit the spot. We'll keep you posted if and when the recording finds it's way onto the RBMA archives.
Ashes57 Side Effects Project
Ashes57
and crew kept busy during the off week, flipping Outlook's mural installation and giving it some Dimensions flavor. You can check out the time-lapse video
HERE
as well as photos from the booth itself on her
Flickr
.
Mungos Hi-Fi & Phoebe
SubDub have been pushing the sounds of dub and dubstep north of London for the past decade and a half. Since 2005 their legendary Exodus / DMZ nights in Leeds remain powered by the mighty Iration Steppas sound system in room 1 where Digital Mystikz & crew take center stage. Thursday night Exodus took to Mungo's arena curating a massive 10-hour session featuring Mungo's Hi
-
Fi, Iration Steppas, Mala, Pinch, Jack Sparrow, and Kode9.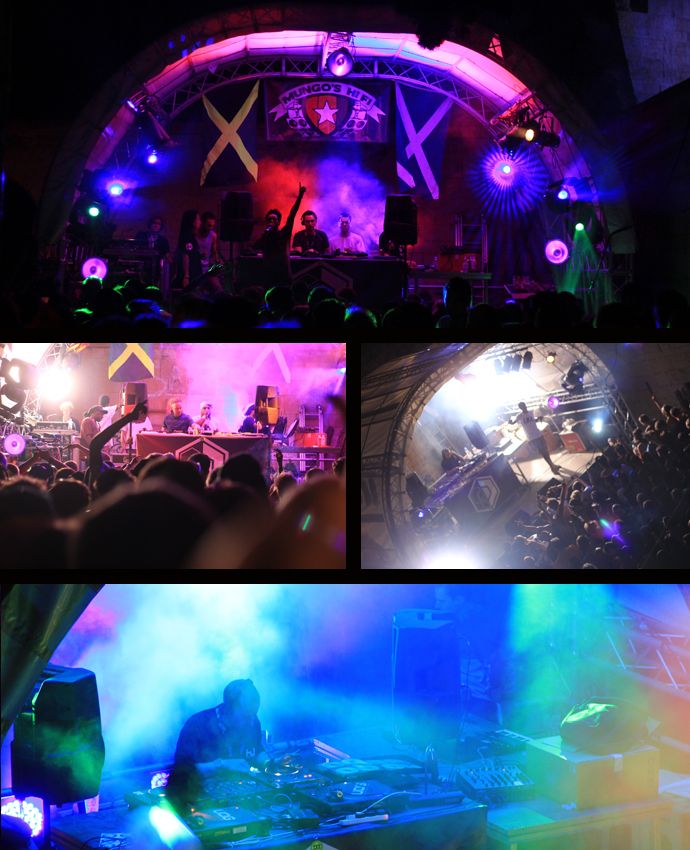 Mark Iration
Jack Sparrow
Launched in 2007 and having just celebrated 5 years strong, Benji B's mid-week Deviation sessions have established themselves as a London institution. Curating a Friday afternoon boat party for Dimensions, Benji called upon the talents of longtime Deviation fam Moxie, Josie Rebelle, Ossie, and Joy Orbison to soundtrack the nautical expedition.
Moxie
Josey Rebelle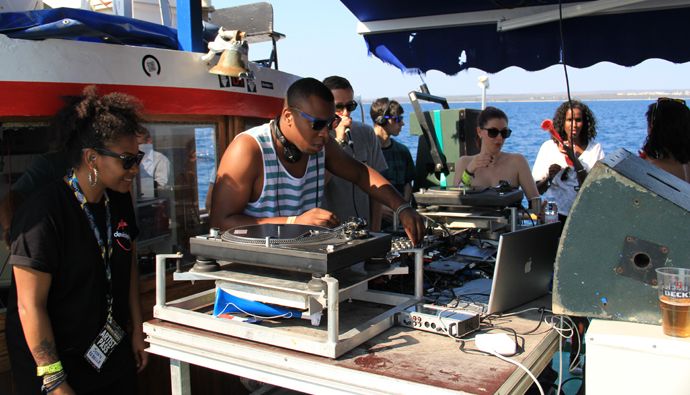 Ossie
Joy Orbison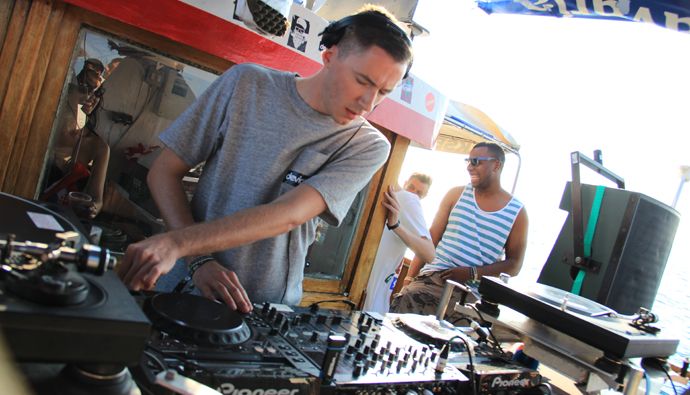 Benji B
Another advantage to Dimensions' limited capacity was that it freed up much of the prime beachfront real estate. Churning out it's fair share of deep house over the weekend, the Beach stage was the perfect spot to take in the early evening sunsets over the Adriatic.
Alongside fellow Detroit talents Carl Craig and Moodymann, Jimmy Edgar did the motor city proud with some percolating sleezy Electro styles. You can stream the recording of his set via RBMA below:
Loefah & Chunky
While both the Swamp81 and Hessle Audio showcases in the Moat had eluded us at Outlook, the two labels joined forces for an unforgettable night in Mungo's Arena at Dimensions. Friday night's takeover provided sets from Midland, Pangaea, Zed Bias, Ben UFO, Pearson Sound, and Boddika, with Swamp don dada Loefah taking the reigns til sun up.
Kozee
The fastest boat to sell out between Outlook/Dimensions 2012 was Saturday afternoon's Exit Recordings boat. Lucky to lock up tickets as soon as they dropped, we embarked upon a DnBooze cruise of epic proportions. Kicking things off was Consequence with some classic electro before Synkro & Indigo took the helm and steered the voyage 20,000 leagues deep.
A one-time-only affair: dBridge, Loxy, and Marcus Intalex then went back2back2back and put on a clinic.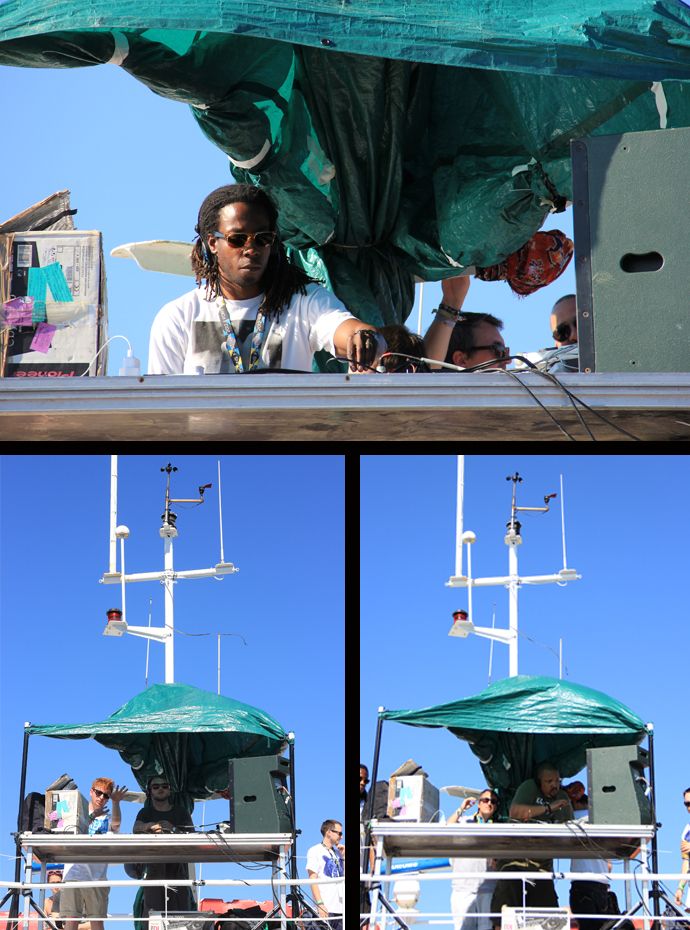 Exit Recordings boat party ft. Consequence, Synkro, Indigo, dBridge, Loxy, Marcus Intalex, SP:MC & GQ
Dimensions certainly provided a more intimate festival experience than Outlook, but it wasn't without some logistical gaffes. Outlook's larger harbourside and clearing stages helped to divert a majority of the traffic away from the Fort itself. With the absence of these stages at Dimensions, many found themselves queueing outside of the 2000-capacity Arena1 to catch the festival's headlining talent.
While the Fort is undoubtedly the star of the show, absorbing Outlook's Clearing or Dockside stage for next year would help to alleviate queues encountered for headliners booked in Arena 1. For a festival only in it's infancy, these types of growing pains are inevitable. Judging from how the same production team have dealt with the growth and improvement of Outlook over the past three years, the Dimensions crew is no doubt already hard at work on how to better themselves for 2013.
Saturday night we were treated to some old fashioned Croatian hospitality courtesy of our hosts. Food understandably low among the week's priorities and with energy waning, the home-cooking helped power us through one final sunrise.
Our Croatian rave extravaganza sadly coming to a close, we knew it would only be right to see the festival out inna Mungo's style. Capping the two weeks off with dBridge's Exit Recordings label on one of the best sound systems in the World...it doesn't get much better than that. The resounding impression from the night being that Exit is already making music for the year 2019, so best catch up. Bladerunner business.
MC GQ & dBridge
Dub Phizix
Closing the festival out was Dub Phizix, an appropriate end to two weeks of Croatian raving where his music was seemingly inescapable. SP:MC guided the crowd through the final furlong on the mic until reluctantly Mungo's finally shut their rig down for the last time.
Dimensions is definitively one for the heads. It's a festival that respects it's audience enough to know the same people who find peace in a meditative eyes-down set from Mala can also find enjoyment shocking out to some Berghain techno and vice versa. With some obvious room for improvement and limitless potential, it's safe to say that the Dimensions experience will only improve in 2013 and beyond. There's no doubt the festival has already cemented itself as a marquee destination for those with a passion and appreciation for deep and subversive electronic music.