Pulling out all the stops for it's 5th year, Outlook amassed an unrivaled lineup of up-and-coming talent, scene pioneers, and living legends for their annual pow-wow on the grounds of Fort Punta Christo. The fort itself, an abandoned naval installation built between 1836 and 1883, sits just 45 meters from the Adriatic coastline and provides without a doubt one of the most surreal festival settings in the World.

Outlook not only celebrates the current scope of cutting-edge talent that fall under the "bass music" umbrella, but also those who laid the foundation of dub and reggae music generations before. You can trace back the lineage of dubstep, UK garage, and jungle to dub legends such as Lee "Scratch" Perry, Jah Shaka, and sound systems as pivotal as Trojan, Channel One, and Iration Steppas.

Billed as "the largest bass music and sound system Culture festival in Europe", we'd be remiss if we didn't mention the sound. While overall production value, stage design, and visuals are certainly no slouch; it's clear that quality of sound within each arena at Outlook is paramount.

Words seem to fall catastrophically short in accurately capturing the essence of Outlook in it's oscillating, pupil dilating, Ozujsko-fueled glory. Thus, we've frozen some of our favorite moments in time...


The Harbour stage served as host to festival headliners. Equipped with the same Martin Audio large scale rig as Glastonbury's Pyramid Stage, heralded acts such as Max Romeo, Fat Freddy's Drop, Andy C, Congo Natty (Live), DMZ, Skream, and DJ Marky played to thousands til the early morning hours.
Sat adjacent to the Harbour is the Dockside stage, outfitted with the same quality in sound by way of another Martin Audio large-scale array. The close proximity of the festival's two main stages made it easy to bounce back and forth between the Harbour's headline acts and Dockside label showcases for Metalheadz, Shogun Audio, Rinse.fm, & Chestplate vs. Osiris.
The crowning jewel of Outlook however, is Fort Punta Christo itself. The largest of the fort arenas, Arena 1 immediately envelopes you in sound within it's 20 foot high fire-breathing walls. The custom Void-Acoustics rig delivered the most sonically immersive environment of Outlook 2012; the sort of bass pressure that could be felt all the way up into your eye sockets.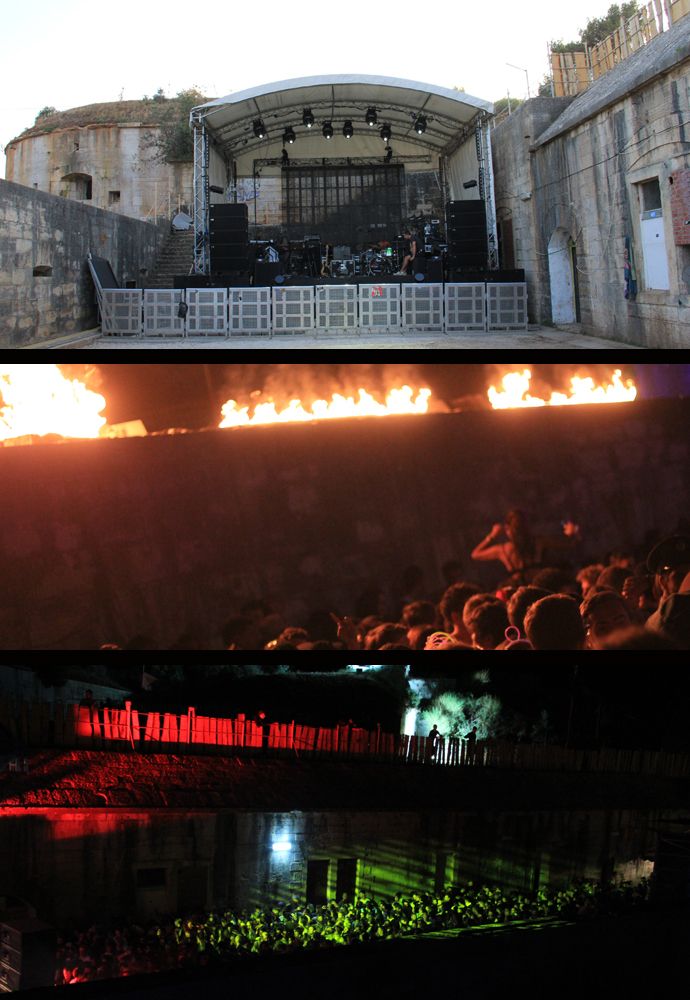 Arena 1 highlights from our rounds included a trifecta of sets by Addison Groove, Scuba, and Appleblim from Friday's SUB:STANCE night.
Commodo
& Lurka played a raucous B2B set for Thursday's Black Box label affair and Kromestar practically had the fort levitating during the
GetDarker showcase
.
The Moat - home to label showcases from Swamp81, Momentum vs. Soul:ution, Hessle Audio, & Audio Warfare. There's something about the moat that intrinsically makes you take a step back, look around and appreciate where exactly it is that you are. Aesthetically tough to beat, it's moss covered five meter high walls run roughly the length of a Football field and are flanked on each side by sizable Noise Control Audio stacks. With no easily accessible booze without leaving and often a lengthy queue for re-entry, Moat-goers found alternative means to amplify their experience once inside.
Even the smallest of the stages within the Fort boast their own custom tailored sound systems. These stages allow space for some of Outlook's less established up-and-coming acts while creating the most intimate musical venues on the festival's grounds. Connecting the Fort's Courtyard, Dungeon, and Ballroom are a network of arched passageways and tunnels, eventually spilling you out into some of the dopest beats you'll ever hear.
If you've ever wondered what raving at the bottom of a well would be like, then the Ballroom's got you covered. The elevated DJ booth and circular dancefloor proved to be an epic backdrop for L-Wiz and other low-key acts over the weekend.
Perched on the point of Punta Christo sits Mungo's...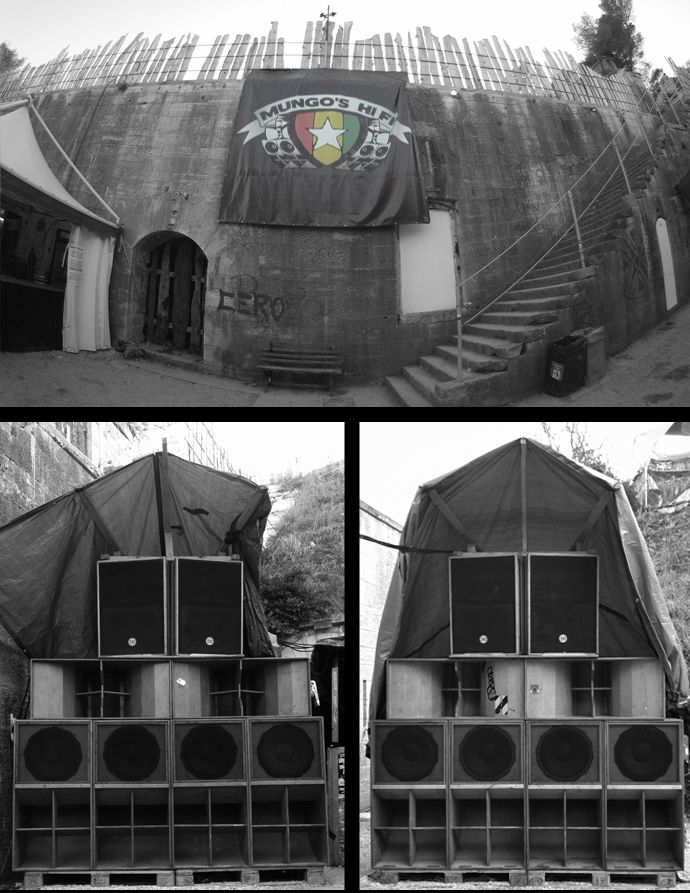 As demonstrated by their victories at RBMA's recent soundclashes in Glasgow and Birmingham, you simply can't test Mungo's champion sound. Their iconic 18" horn-loaded scoops and custom-fabbed Void-Acoustics tops are centerfold material for any respectable audiophile.
Our utmost gratitude and respect to all Mungo's crew for the hard work hauling the system out to Croatia and having her purring like a kitten all weekend. A system is only as good as it's soundbwoy and you can trust that Mungo's come correct. No rest for the wickedman.
Kept under wraps until just before Outlook, Manchester's Dub Smugglers announced they would be supplying their sound-system to run point for the festival's Beach stage. Operating from noon right up until Fort festivities kicked off at 8:00pm, the beach provided an alternative to boat parties for all the sub-loving landlubbers. With an emphasis on all things irie, the Beach Stage played host to sets by Earl Gateshead, Channel One,
Mungo's Hi-Fi
, and Gorgon Sound; as well as a History of Garage/Dubstep set from Hatcha, N-Type, & Plastician.
--- What the locals refer to as : "TECHNO-REGGAE

" -

--
Fort Punta Christo first hosted Outlook in 2010, but the Fort has been home to Croatia's premier reggae festival
Seasplash
for the past decade. Built upon much of the same foundation, Outlook pays homage to the roots of reggae and dub, lending some generational context to modern Sound System culture in all it's varying forms.
Daddy Freddy & Iration Steppas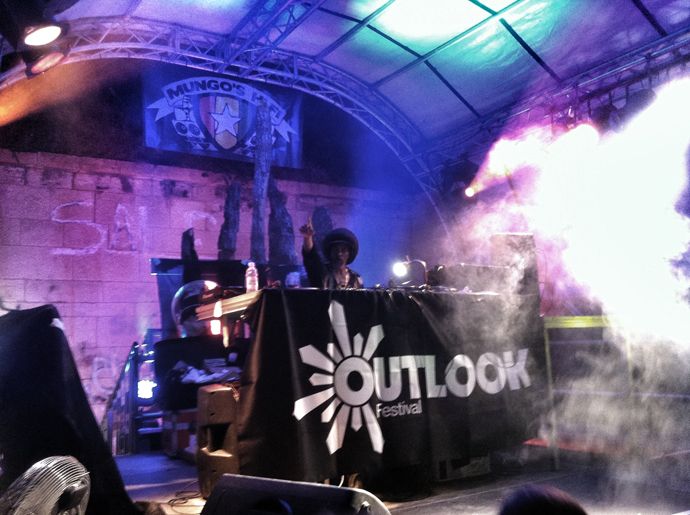 Jah Shaka held down the opening night of Mungo's with a Six-hour set.
Tenor Fly, Phoebe, and Congo Natty inna di Clash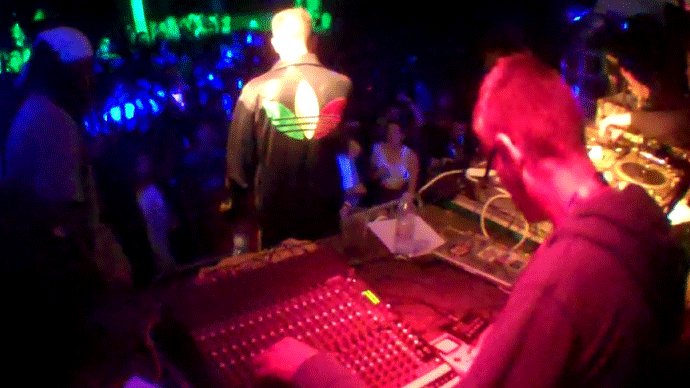 Longtime Bassfaced favorite Disrupt (Jahtari) & Charlie P



--- MC's ---
Woven deep into the fabric of sound system culture is the role of the host. Sourcing in some of the finest DJs and sound systems from across the World, Outlook didn't cut any corners when it came to MCs either. There seemed to be an understanding across the board in allowing tunes room to breathe, something often overlooked by MCs here in the States. It was refreshing to hear the likes of Eksman, GQ, Pokes, Tenor Fly, Phoebe, and Daddy Freddy injecting their energy, contributing to the music rather than detracting from it.
"Eksman I'm a lyrical G / When I'm pon the riddim you know I'm deadly." - Eksman
"Wait a minute allow that, pet nor powder. Sound man crank it out the desk now louder. Sonic ambush now my words they surround yah. Heavy Artillery on every encounter." - MC DRS
"Put on a show like they never seen. Slang like this took over the scene - Cool, Safe, Blud - Seen." - P Money
"Oh Gosh, Oh Golly / I'm not a wasteman I'm not a Wally / Man can't push me around like a trolley / I'll kick off his head with a Pele volley" - D Double E


--- Saturday - DMZ Showcase ---
While the DMZ nights at Mass in Brixton have been put on hold since the nightclub's demise, Outlook Festival staples Mala, Coki, Loefah, & Sgt. Pokes reunited on the Harbour stage for a colossal two-hour session on Saturday night. Delving into the label's extensive back catalog and reaching for the classics, the set served as a reminder of how far things have come since their humble beginnings at 3rd Bass seven years ago. There's something to be said for being surrounded by 5,000+ people braving a torrential downpour, hoisting lighters in the air for "Cay's Cray".
"I see the rain come down while the sun is shining. I see them dance into the night"
"Out to all the gyaldem in the goulashes....SOGGY" - Pokes
"Time to phone a loved one...Time to phone someone you love. You're about to go missing." - Pokes
Meditate On Bass Weight.


-Boat Cruises -
If trying to relieve last night's hangover with some Vitamin D and reggae isn't your
bag
, you can always keep last night's party going by hopping on one of Outlook's 50 some odd boat parties. Tickets for all of this year's boat's sold out well in advance, so don't slack once they go on sale. This year we were lucky to embark upon the inaugural Anti-Social Entertainment cruise on Saturday night as well as Sunday afternoon's Vagabondz boat.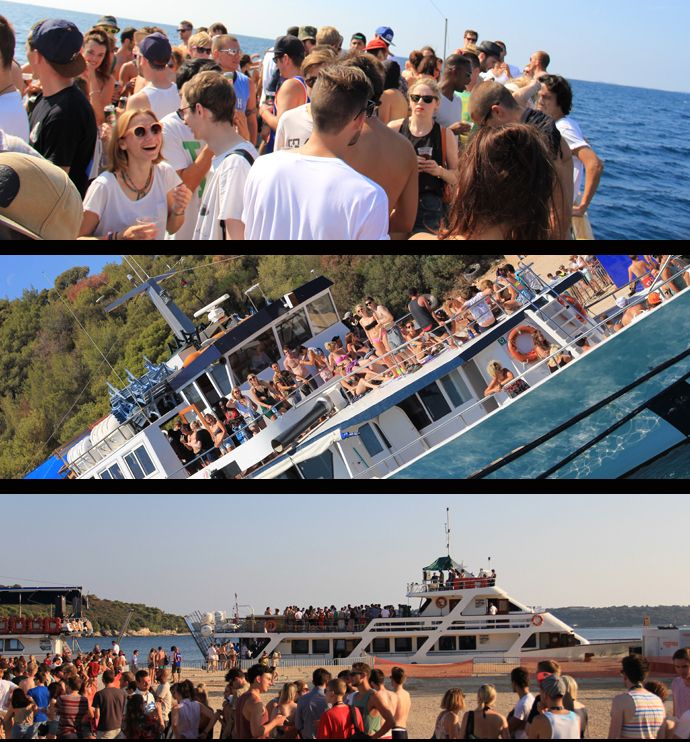 Anti-Social arguably had the biggest lineup of any boat party, both from a talent and size perspective alike. This proved quite the hilarious juxtaposition as they held down easily the smallest confines of any of the boats.
Saturday night's boat cruise proved to be the perfect vessel to escape the port and temporarily weather the ongoing storm.
Silkie, R1Ryders, Razor Rekta, Quest, G Double, Chefal, Jay 5ive, Alys B, Kromestar, Dark Tantrums.
Sunday arrived much in the same fashion as the other 11 weeks of the Istrian Summer, with clear skies and a balmy 85 degrees. Boarding the Vagabondz boat around noon to the sounds of Gang Starr's - 'Full Clip' still half-cocked from the night before, it was abundantly clear that we were already having one of the better Sundays on planet Earth. Despite overhearing complaints some 2 minutes into the cruise that yesterday's (presumably water-logged) cruise was better, most gladly welcomed the opportunity to cure out in the sun to the sounds of hip-hop classics, old school electro, party anthems, and the freshest house productions to come out this year.
Vagabondz Boat ft. Disclosure, NYTA (Mensah), Lil Silva, and Night Owl
--- Closing ---
Some 72 hours of raving later and showing little signs of fatigue, Outlook forged onward for one final night of unfathomable lineups. With no rest for the weary, the night was spent scattered across the hillside covering as much square-footage possible. Highlights included intimate sets from longtime heros L-Wiz and
RSD
in some of Outlook's smallest venues before returning to be engulfed by the mothership of a main stage and her Dockside sistren one last time.
Youngsta & SP:MC closing out the dockside at 5:00am with the finest cuts. Yunx got the midas touch.
Ant-TC1 and Icicle closed out the Harbour stage at 6am drawing for classics like LTJ Bukem's - 'Atlantis' and closing the festival out with Dillinja's - 'Nasty Ways'.
Many soon returned to the harsh realities waiting back at their points of origin, while those with an insatiable appetite for beats forged onward into the Croatian unknown, awaiting the start of
Dimensions Festival
to be held on the same grounds later in the week...
--- C

roatian Unknown

---
Plitvice National Park, Croatia
Podgaric, Croatia