By: Cooper Eaton & Jaimie Fife
Photography: Ashes57
"Croatia, Croatia!": think Damian Marley's "Welcome to Jamrock"
It's the last night of a four-day heavy-bass binge at Outlook Music Festival—the largest bass and soundsystem culture festival in Europe—and unassuming noises are starting to sound like bass lines. The time is almost two AM and nearly every eatery in the festival is crowded with 20-something party-people scarfing "pommes frites" to nourish their bass-tenderized muscles.
A pressure washer humming over the commotion of jolly festivalgoers triggers a flashback; dockside shows rage on the other side of the hill. The crowd moves like it's synced with a lazy heartbeat. Bass practically shakes the soil. Ravers tromp around yelling "Croatia, Croatia" at each other in all directions. The effects of extended bass exposure are settling in.
Outlook took place in Pula, Croatia September 1st-4th and brought together fans of some of the most beloved electronic subgenres of the moment—dubstep, dub, reggae, grime, hip-hop, drum & bass, garage, techno, electronica and left-field beats. The result: a practically unfathomable lineup of artists coming together to create a Mediterranean bass music mecca.
With lots of old-word charm, Fort Punta Christo is both a relic and a venue. The Austrians built The Fort in the 19th century to protect their naval port and the remaining structures from this period were used during the festival as stages.
The festival also used the nearby beach as a venue, which certainly added some spice. Both The Fort and the waterfront together yielded a dynamic festival experience which included: boat parties, a moat, a dungeon, two dockside stages, a circular-enclosed "ball room," a basketball court transformed into a large scale boombox and a stage reserved exclusively for one of the finest soundsystems in the world—
Mungo's HiFi.
Outlook wasn't short on novel bits, but one of the scenes that will likely resonate in the memories of 2011 Outlookers was the full-fledged dockside DMZ night. The sequence of acts leading up to the Digital Mystikz set went a little something like this...


The night kicked off with a set from Jack Sparrow & Pinch with Dubzee holding down the early hosting duties on the mic:
The next duo to take to the stage, Chestplate affiliates Distance & Tunnidge shook some sternums alongside MC Juakali:
"you guys are nevva satisfied"
The Anti-Social Entertainment faction were then represented by Silkie & Quest with G Double hopping on mic:

The Friday night lineup at the dock stage was like climbing a mountain—with a Digital Mystikz sing-a-long tribute to Bob Marley at the top. DMZ finally took the stage and one of the first songs dropped was "Is this Love?" The crowd didn't miss a line—it was magic. Subsequently, the dubplates began to drop. Rolling waves of particles carried Mala and Coki basslines ringing out into an ocean of a few thousand eardrums.


"we don't wanna fight tonight"
After such an intense night out, we went back to the campsite for some maxing and relaxing. The next morning, the blazing summer sun awakened us bright and early. The tent was hot and we were eager to start our day, so we headed for the beach.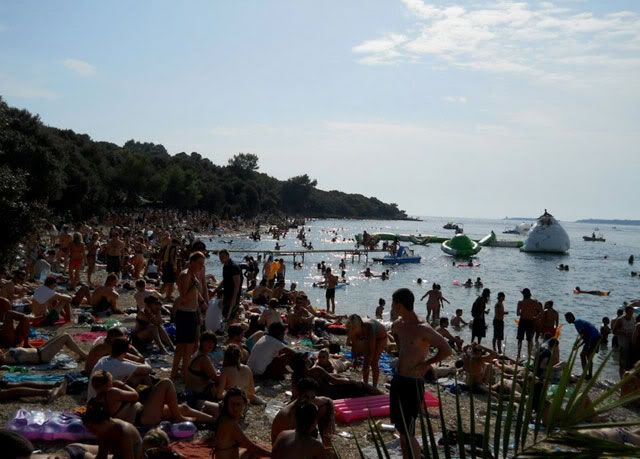 Sunbathing, dancing, swimming and a killer-tofu soundsystem→ crazy beach party. DJ Chimpo was already at work rinsing personal dubs while MC Broke-N-English freestyled for the homies on the beach. At the end of the set, the quick worded MC asked for suggestions from the crowd and a raw flow ensued.
Art and Interaction: As if the boat parties, beach and Fort weren't enough—Outlook also incorporated art installations and interactive spaces.


The House of Dub: Situated within the walls of another rustic landmark at the Fort—The House of Dub was clearly the best of both worlds—art and interaction. This fun house for dub-lovers curated by London's Lava Collective was located in a small, airy building covered with graffiti and equipped with a dub-pumping soundsystem on the outside. Featured artists included Mr. Penfold, Stik, Emma Dexter, Ashes57, Ziggy Grudzinskas and Chris Mackenzie-Gray with sonic accompaniment courtesy of Horsepower's Benny Ill.
On the inside, guests were bombarded with psychedelic images, effects and lights. Ashes57, a graphic artist and photographer who's artwork was recently showcased at the Sub Culture: Visions of Sound exhibition in NYC last month, contributed several art pieces to the House.


The Yard: Outside The House of Dub in a makeshift front yard, some trees stood illuminated with multi-colored lights. Books and other objects hung from their branches. Cardboard cutouts of music equipment were spread around bails of hay that were placed in clusters for ravers to rest their weary legs. The space was an ambient place to relax and drink with friends in-between shows.
The Clearing: The Clearing was just across from the entrance to the fort grounds, which was marked by a giant Outlook map.
Housing several more art pieces, the Clearing also featured a constant broadcasting soundsystem with tent activities. Novation Music sponsored the tent and provided people with an interactive opportunity to test and experiment with their MIDI controllers.


Film Screen: During the night, the Ball Court was transformed into an outdoor movie theater. Kids could sit down and educate themselves with the latest dub and art documentaries.


Campsite: The campground was arguably the least enjoyable part about Outlook. It's possible that showing up early and having a good spot makes a huge difference at Outlook— but we may choose to rent a room at one of the neighboring hostels next time. And if we ever camp again, we will arrive early with our own tent.


Outlook brings together a pack of lovable artists in an abandoned naval fort to perform some of the tastiest beats of tomorrow. What's not to enjoy?


Another positive point worth mentioning—Outlook is still pretty fresh and reasonably priced.
Meanwhile, renting a tent is around $40 with a $15 cash refund, four-day passes are about $250 and a burger and fries will cost you around $7.
What's more, it seems likely that Outlook will continue to increase in popularity and quality each year. Ravers will go home and spread the word and the organizers will continue to develop and promote the event. Royal or regular—Outlook Music Festival could easily become an annual vacation for any bass music lover.

DJ Coop's Top 5 Tunes of Outlook 2011:


Ginuine - Pony
Silkie - New York City
Cooly G - Phat Si
Magnetic Man - I Need Air
Coki - On Board
While Cooly G was busy supplying some proper Funky vibes during the Hyperdub showcase, we had a chance to catch up with Kode9 to discuss the label, his book 'Sonic Warfare', as well as his recent sound installation in New York:
I'm sure you get plenty of show requests, why did you choose Outlook to showcase your talent and your label?
I've never been before. They asked me last year and I couldn't make it. This year they wanted us to do a Hyperdub stage, so I was really happy to do so. Everybody's been talking such amazing things about this festival.
Hyperdub does not seem to be focused on any one genre at all, why is your label committed to more than just dubstep, despite its massive appeal?
I'm just following music I like. There's not so much dubstep, straight-up dubstep, which I'd want to release just now. So I broadened out trying to find stuff that I like, I don't really care what it is.
What are some general goals for Hyperdub in the future?
Well, the main one is just to stay interested. Well, for me to stay interested. That's the general goal. It's a struggle every few months; you've got to just keep encouraging the artists that you're working with and keep trying to find new ones. We've been trying to do more albums and have got a lot of albums coming out next year, but they tend to take a long time. So, things move slower than you thought they would.
Is there anything that you draw upon for creative influence to stay motivated?
That's the constant struggle, there's no simple answer. I just keep messing around trying to make music, trying to find new music. I'm trying not to get stuck in a rut, either. A retro rut or just because something's commercial—I'm not always trying to give people what they want.
'Sonic Warfare' was an ambitious and scholarly read. What are you writing about now?
I'm basically working on a fiction that's based on Sonic Warfare, which is to do with this art show I had in New York. [The art show] just finished in July. It was like building this book into a room, and so I've written a whole sonic fiction around that. It's fiction in text—it's also kind of an audio, not a radio, play—kind of like fictional essays. Like writing fiction and basically doing it in sound and in text.
'Sonic Warfare' was mostly non-fiction, right?
Yeah, but it drew from a lot of science fiction sort of, and I still see it as a science fiction book.
He doesn't do all of our stuff, but he's a great designer; the kind of patterns he generates I think are amazing and really fit some of the music. He also runs an amazing label, Citinite, doing kind-of eighties funk-synth and electrofunk-synth.
How has a your career as a professor impacted your music?
I'm not sure it does apart from time; the amount of time I spend teaching is time I would like to be spending in the studio. So it's a constant fight for time to do stuff.
There's a great line in Blade Runner where Sir Rutger Hauer, the blonde replicant, just as he's dying cause he's running out of life, says—
"I want more time, fucker."
It just resonates with me.
What is the most challenging part about running Hyperdub?
It's like herding cats.
Could you explain a little bit more about your artistic intent with your sound installations?
[My intent] is to create an intense experience, a slightly haunting one. So the sound installation has got a whole theme, a whole fiction around it; a theme of haunted sound in relation to the military. So it traces three phases in the history of particularly the U.S. military; the Second World War up to Vietnam, Vietnam, and then kind of the War on Terror.
[The piece also discusses] the way sound has been used to haunt people during each of those phases. So we tried to create like an infra— like a really low frequency space. We built it on a 21" sub woofer and used a lot of infra sound and ultra sound speakers to try and create a haunted sound space. We made people sign legal disclaimers before they went in.
Dub has always kind of had a haunted vibe. I'm attracted to that slight uneasiness.
We are too. Thank you so much for taking the time to talk with us!